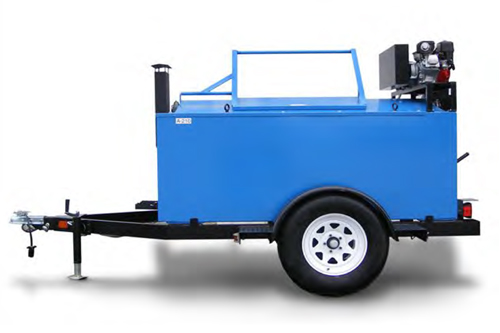 The A-210 lives up to its' "High Performance" name tag. Stainless steel fire tubes come standard. Unique air-jacketed construction ensure no product charring.
This U.S. 200 gallon model has a large material handling capacity combined with a fast heat-up time. Your choice of gas, electric or optional Diesel drive agitator. Optional trailer, pump and Auto Temperature controls.Material ready in 55 minutes.
*Shown with optional trailer. 
*Download Spec Sheet here –  A&A Melters A-210
*Download Operating Manual here – A-210 Manual
*CLICK IMAGE TO ENLARGE
SPECIFICATIONS: A-210

Heat Transfer Oil
None Required
Fire Tubes
5″ sch 80 Stainless Steel Pipe
Capacity 
200 US Gallons
Agitator
Honda 5.5 H.P. Air-Cooled Engine, 110 Volt Electric or Optional Diesel Engine
Overall Dimensions (Melter Only)
L-88″ W-48″ H-54″  2,100 lbs.
Burner
Adjustable Liquid Propane 2 X 360,000 BTU, Optional Beckett Diesel Burners
Temperature Controls
Optional
Inner Shell
1/4″ Rolled Steel
Outer Shell
1/8″ Rolled Steel
Insulated jacket
1/2″ Super High Temp. Plus 2″ High Temp. Fiberglass
Suspension 4″ Drop Axle
5000 lb. Axle
Optional Trailer (w/ Melter mounted)
L-162″ W-79″ H-67″  2,650 lbs
Brakes
Electric Standard
Tow Hitch
As ordered c/w safety chain
Shipping Weight (Melter only)
2100 lbs
Shipping Weight (Trailer only)
550 lbs
Pump
Optional 1 1/2″ Viking
Horizontal Wand Pumping System
Optional
Tires
2 X 6.00 X 14″
Trailer Chassis
4″ Steel Channel
Heated Material Output:
Efficiency: 78.9%
Material Capacity: 200 US Gallons | Output Aprox 180 gal/hr 
Heat up time: 55 mins