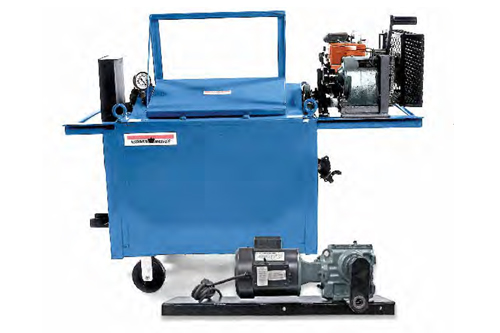 The A-40 is a very compact under-fired melter and has the same oil-less design as its larger brothers which reduces warm-up time to approximately 20 minutes. Extra high temperature insulation permits movement from one roof deck to another without burning the operator. Stainless steel fire tube comes standard
The A-40's small dimensions allow it to fit into any elevator or through a standard doorway and the interchangeable power pack allows the contractor to purchase the super-quiet electric unit which is suited to a specific job where noise restrictions may be of concern.
*Download Spec Sheet here – A&A Melters A-40  
*CLICK ON IMAGE TO ENLARGE
SPECIFICATIONS: A-40

Heat Transfer Oil
None Required
Fire Tube
4″ sch 80 Stainless Steel Pipe
Capacity 
35 US Gallons
Agitator
Honda 4 H.P. Air-Cooled Engine, 110 V Electric or Optional Diesel Engine
Overall Dimensions 
L-62″ W-31 3/4″ H-47″  850 lbs.
Burner
Adjustable Liquid Propane 1 X 300,000 BTU or Optional Beckett Diesel Burner
Temperature Controls
Optional
Inner Shell
3/16″ Rolled Steel
Outer Shell
3/16″ plate
Insulated jacket
1/2″ Super High Temp. plus 2″ High Temp. Fiberglass
Shipping Weight
850 lbs
 
 
 
 
 
 
Heated Material Output:
Efficiency 78.9%

Material Capacity: 35 US gallons
Heat up time: 30 mins
35 gals / .50 hr. x 78.9% = 70 gal. / hr.