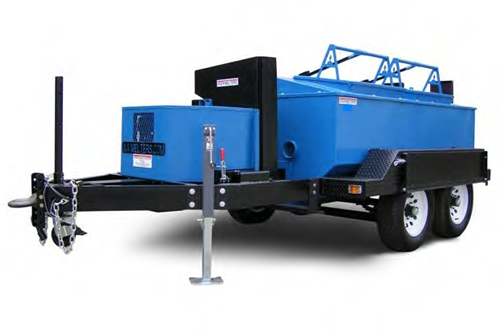 The A-500 is our newest addition, with a 500 Gallon capacity its the biggest Rubberized Asphalt Melter on the market.
Stainless steel fire tubes come standard.
Front mounted burners.
Hassle free Material spout at rear.
Dual loading doors.
Patented "air-jacketed design"
No more messy heat transfer oils.
Heats material in as little as 90 minutes.
Electric brakes come standard.
Tandem axle standard.
NEW-Heavy Duty trailer mounted lifting lugs Standard
*Download Spec Sheet here – A&A Melters A-500 
*Download Operating Manual here – A-500 Manual
*CLICK IMAGE TO ENLARGE
SPECIFICATIONS: A-500

Heat Transfer Oil
None Required
Fire Tubes
5″ sch 80 Stainless Steel Pipe
Capacity 
480 US Gallons
Agitator
Honda 9.0 H.P. Air-Cooled Engine, 110 Volt Electric or Optional Diesel Engine
Overall Dimensions 
L-198″ W-80″ H-70″  4,800 lbs
Burner
Adjustable Liquid Propane 2 X 750,000 BTU or Optional Beckett Diesel Burners
Temperature Controls
Optional
Inner Shell
1/4″ Rolled Steel
Outer Shell
3/16″ Rolled Steel
Insulated jacket
1″ Super High Temp. plus 2″ High Temp.
Suspension 4″ Drop Axle
Tandem Axle – 2 x 6000 lb Axles
Brakes
Electric Standard
Tow Hitch
As ordered c/w safety chain
Shipping Weight 
4,800 lbs
Pump
Optional 2″ Viking
Horizontal Wand Pumping System
Optional
Tires
4 X 8.00 X 16″ 10 Ply Rating
Chassis
6″ Steel Channel
Tandem Axle
Standard
Heated Material Output:
Efficiency: 85.0%
Heat up time: 90 mins
Material Capacity: 480 US Gallons | Output Aprox 400 gal/hr.