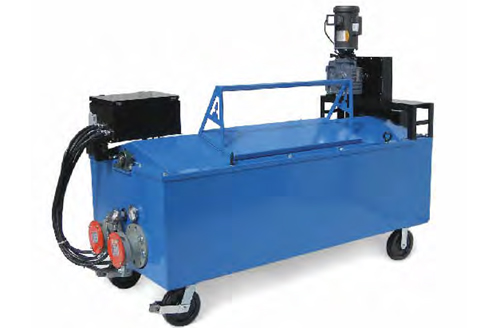 100% Electric Rubberized Asphalt Melters
Available in 60, 100 & 200 Gallon Models
No open or enclosed flame on rooftops.
Built to match the speed and efficiency of our propane & diesel fired melters
No gas, propane or diesel needed on the roof.
Very precise control of heat distribution by means of computerized controllers controlling many parameters such as heating elements. (% of power to rising temperature)
Safety features include high limit controller which shut the machine down if temperature rises above factory preset. (Material manufacturers recommended temp.)
All electrical components are Watlow products which are UL and CSA approved, such as our tubular flange electric heaters.
High limit controllers are factory mutual approved. (Used in New York City with vent less deep fat fryers)
All electrical components are protected with proper breakers and installed by a qualified electrician.
Machines are heavy duty and compact as to get on rooftops easily.
Material agitators are electrical powered and require no fuel to run them.
Components are designed with forward thinking capabilities. (Alarm and a wireless temperature monitoring communications system)
Because the Electric melter does not use any fossil fuels it has a far less negative impact on the environment than any other melter on the market today.
Our 100% Electric melters come equipped with electric heater elements, electric drive system for the agitator and a factory programmed, easy to use temperature regulator and safety system .
Our electric melters run on 480 Volt 3 phase power, which can be made available via an existing on site hook up or through the rental or a portable/towable generator set. Contact us for details concerning power usage and rental options in your area. 220 Volt single phase also available.
*Download Spec Sheet Here – A&A Melters Electrics

A-210 Electric Melter – (200 Gallon Capacity)  * CLICK IMAGES TO ENLARGE
A-110 Electric Melter – (100 Gallon Capacity)  *CLICK IMAGES TO ENLARGE
A-60 Electric Melter – (60 Gallon Capacity)  * CLICK IMAGE TO ENLARGE
A&A Melters Electric Melter Demonstration
SPECIFICATIONS: NEXT GENERATION HIGH PERFORMANCE A-210 Electric

Capacity
200 US Gallons
Agitator
110 V Electric
Overall Dimensions (Melter Only)
L-94″ W-48″ H-63″  2,100 lbs
Burner
480 V- 3 PH 60 Amp Total (2 x 30 Amp 6″ 21 KWH Flanged Electric Elements)
Temperature Controls
Comes Standard with all Safety Options Installed
Inner Shell
1/4″ Rolled Steel
Outer Shell
1/8″ Rolled Steel
Insulated jacket
1/2″ High Temp. Fiberglass. Plus 2″ High Temp. Fiberglass
Pump
Optional 1 1/2″ Electric Viking Pump
Optional Trailer (w/ Melter mounted)
L-162″ W-79″ H-67″  2,675 lbs
Brakes
Electric Standard
Tow Hitch
As ordered c/w safety chain
Shipping Weight (Melter only)
2125 lbs
Shipping Weight (trailer only)
550 lbs
Horizontal Wand Pumping System
Optional
SPECIFICATIONS: Upgraded super fast A-110 Electric

Capacity
100 US Gallons
Agitator
110 V Electric
Overall Dimensions (Melter Only)
L-91″ W-34″ H-45″  1,500 lbs
Burner
480 V, 3 PH 35 Amp Total (2 x 17.5 Amp 5″ 12 KWH Flanged Electric Elements)
(or 220 V, SPh 80 Amp Total)
Temperature Controls
Comes Standard with all Safety Options Installed
Inner Shell
3/16″ Rolled Steel
Outer Shell
1/8″ Rolled Steel
Insulated jacket
1/2″ Super high temp 2″ High Temp. Fiberglass.
Pump
Optional 1 1/2″ Electric Viking Pump
Optional Trailer (w/ Melter mounted)
L-146″ W-71″ H-71″  1,775 lbs
*Brakes
Electric Standard
*Tow Hitch
As ordered c/w safety chain
Shipping Weight (Melter only)
1500 lbs
Shipping Weight (trailer only)
275 lbs
SPECIFICATIONS: A-60 Electric

Capacity
60 US Gallons
Agitator
110 V Electric
Overall Dimensions (Melter Only)
L-61″ W-34 H-45″   1,250 lbs
Burner
480 V, 3 PH 20 Amp Total (2 x 4″ 12 KWH Flanged Electric Elements)
(or 220 V, SPh 45 Amp Total)
Temperature Controls
Comes Standard with all Safety Options Installed
Inner Shell
3/16″ Rolled Steel
Outer Shell
1/8″ Rolled Steel
Insulated jacket
1/2″ Super High Temp Plus 2″ High Temp. Fiberglass.
Shipping Weight (Melter only)
1200 lbs