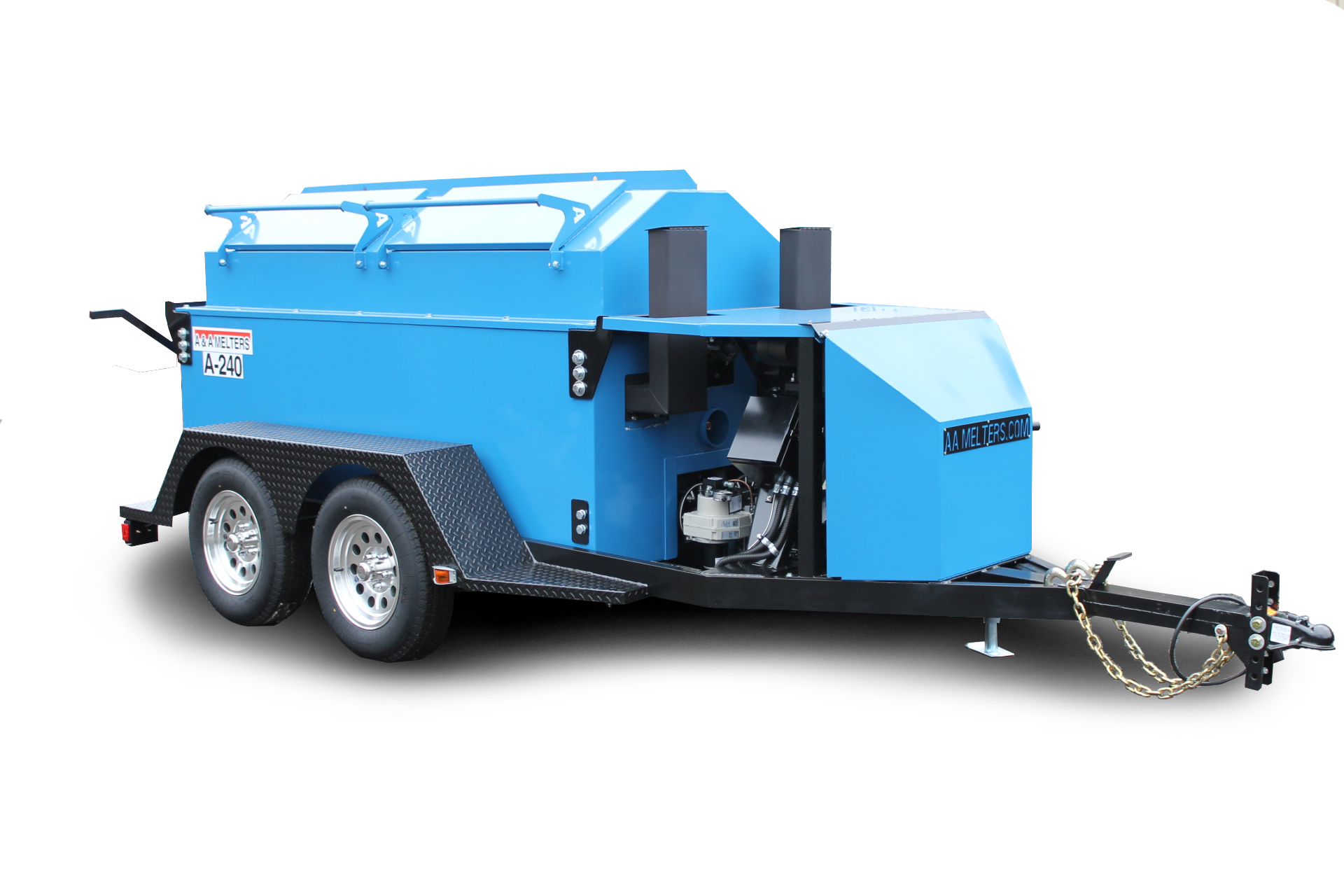 Introducing our newly designed Air-Jacket Mastic Melter, designed for melting repair mastics & aggregate filled patching products used for repairing Concrete & Asphalt. Implementing the same high standard of quality and durability that has been used in producing our line of Hot Rubber Melter for the past 25 years. These units feature a full sweep agitator and Automatic temperature controls ensure material is kept within a specific temperature. Our unique Air-jacketed design allows for exceptionally quick heating of material without some of the problems often associated with typical Oil Jacketed units.
*Download Spec Sheet here –  A-240 Mastic Melter
Click Image to Enlarge
SPECIFICATIONS: A-240 Mastic Melter

Heat Transfer Oil
None Required
Fire Tubes
5″ Sch 80 Stainless Steel Pipe
Capacity (Custom Sizes Available) 
240 US Gallons
Hydraulic Agitator w/ Auto Shut off
Honda 9.0 H.P. Gas or Optional Kubota 9.0 HP Diesel
Overall Dimensions
L-198″ W-74″ H-70″
Burners
Adjustable Liquid Propane or Optional Beckett Diesel Burners
Temperature Controls
Standard
Inner Shell
1/4″ Rolled Steel
Outer Shell
3/16″ Rolled Steel
Insulated Jacket
1″ Super High Temp. plus 2″ High Temp
Suspension 4″ Drop Axle
Tandem Axle – 2 x 3500 lb. Axles
Tires
4 X 8.00 X 15″
Tandem Axle
Standard
Chassis
4″ Steel Channel
Brakes
Electric Standard
Tow Hitch
As ordered c/w Safety Chains (2)
Shipping Weight
3,500 lbs.
Hassle free 6 Inch material drain
Stainless steel fire tubes
Dual loading doors
Air-jacketed design
No more messy heat transfer oils
Electric brakes come standard
Automatic temperature controls
Full Sweep Hydraulic Agitator
Heavy Duty Design